Inheritance Recipes
is a challenge co- hosted with Margot of
Coffee and Vanilla
. Our challenge celebrates dishes that food bloggers cherish. Recipes which have been passed down by a family member, a friend, through an ancestral culture
and
dishes which you would like to bestow to future generations.

How does the Inheritance Recipes work?
Each month, food bloggers will add their favourite recipe(s)celebrating a dish which they love and connects them to their root or which they would like to share with the next generation. As this challenge is opened to all, regardless of location, each month, we'll end up with the most diverse round up of all round ups.
Social Media
We will also add your recipe to the
Inheritance Recipes Pinterest board
and include your blog's handle in our
Inheritance Recipes list on Twitter
(don't forget to subscribe to them both), we will share your recipe via social media and include in the round-up at the end of the month.
Link to this month challenge
We take it in turn to host so you'll find the monthly challenge on either Pebble Soup or Coffee and Vanilla
Don't forget to check
The Food Blog Diary
to see what else you could link up to!
August - Round up please click here
July 16 - Round up can be seen here
June 16 -Round up
can be seen
here
May 16 R
ound-up can be seen
here
April 16 can be seen here
February and March 16 Round up can be seen
Here
January 16 - Fresh starts
Enjoy the Fresh Starts round up
Here
December 15- Eat your greens
This theme was not the most popular but still we had some fabulous entries Here is the round-up the winner of the two pyrex frying pan is Belleau Kitchen with his mum's leek 'n mushroom pie
November 15- Festive food
To put us in the mood, we decided to theme this challenge "festive" and we were not disappointed, each time you linked got us a little closer to CHRISTMAS
See the fantastic round up here




October 15- Comfort Food
So many great recipes and stories. Check out the round up here. I did cook the winning recipe a Malaysian lamb curry full of flavour by Bangers and Mash, that is going to be a keeper, even thinking of cooking it on Xmas eve.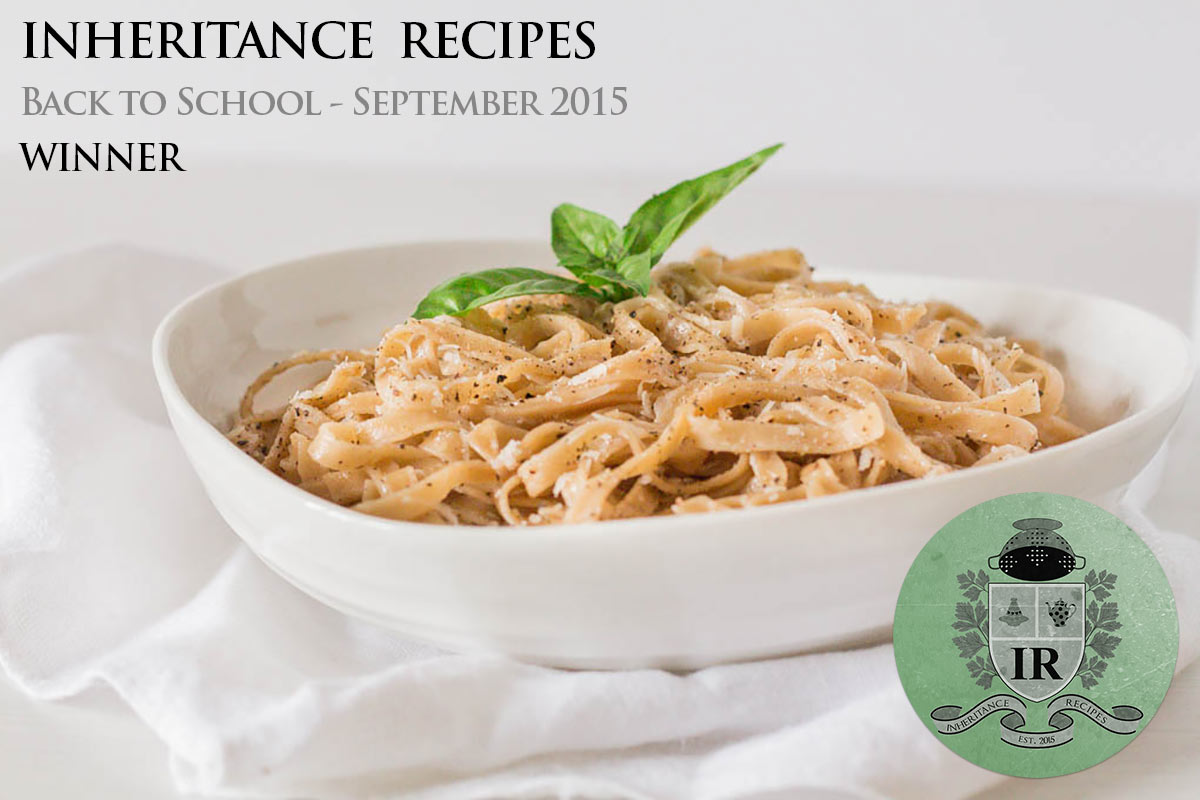 September 15- Back to School
The challenge was hosted by Margot if you have not seen the round up yet check it out
here
it's full of clever ideas to save time while producing a tasty meal.
August 15- Summery recipes
August saw the launch of Inheritance Recipes challenge. The concept was well perceived and you seem to love the idea of recipes passed down or gifted to.
This month we encourage you to tell us stories associated to summer/cool/no fuss recipes. We were very pleased to receive so many entries but of course we are hoping for our challenge to grow.
Thank you to all who have supported us, it's now time to round up.
The Inheritance Recipes challenge: Terms and conditions
Pebblesoup.co.uk and

coffeeandvanilla.com

are the organisers of this competition. Any and all issues related to the competition will be handled by the organiser

The Inheritance Recipes challenge is open to all over 18 years old or over to enter the challenge.

By submitting your link to our challenge you confirm that your entry is original, written by you and that you own copyrights to the images. You also give us permission to use one of the images (fully credited with link to your post) for the purpose of the round-up.

If possible, display one of the IR badges (available below) on your recipe post. While adding the badge save it to your computer and then upload it to your blog, please

do not hotlink

to images on our server.

The closing date is 5 pm (GMT) on the 24th of each month. The organisers reserve the right to alter the closing date

Winners and prize: The guest judge(s)' decision is final

The winner will be contacted by email. The winning recipe will be tweeted. If they don't respond within 5 working days of being notified, the organisers reserve the right to choose another winner.

There will be no cash alternative for the prize. The prize provider reserves the right to offer an alternative prize of equivalent or higher value.

Where prizes are to be provided by a third party the organisers will have no responsibility for defaults or non-delivery.

Postage may be sent to restricted geographical areas determined by the sponsor and will be indicated in the "how to enter" section. This may vary from challenge to challenge.

Instructions form part of the terms and conditions

.