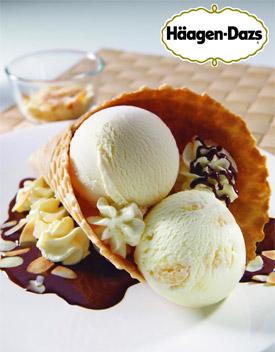 Though I have been collaborating with

Haagen-Dazs

for years, I get cold sweat when I need to spell the brand's name. Has it got two g's, or two a's? Does the z come before the s or vice-versa?
Often wondered where on earth that name came from? All was revealed last week when I attended the launch of the Häagen-Dazs new campaign: #realornothing.
With this campaign Häagen-Dazs is going back to base. The company stresses the importance of the ingredients. Take their vanilla ice-cream (by far my favourite). It consists of only five ingredients: eggs, milk, cream, vanilla and sugar, nothing else is added.
The chef associated with the #realornothing campaign is Natalie Coleman, Master Chef 2013 winner. Natalie cooked us lunch.
The menu, she regaled us with was
based on the five ingredients used in Häagen-Dazs' vanilla ice-cream. Her confit duck egg

with asparagus and truffle shavings was out of this world.
At the end of lunch, we had a little bit of time for a chat. Natalie is super-proud of her Central Street Cookery School's cooking lessons with kids. She told me, "They make simple things, like flat-bread, but you should see their faces when it comes out of the oven". So kids, expect vanilla ice-cream, next.
Now that we know what is in the ice-cream. What's in the brand's name?
For recently having gone through the process of naming a company, I can tell you that it's not an easy task. In my opinion, a name should at least try to represent the business in question. However that didn't seem to bother Reuben and Rose Mattus, husband and wife, Häagen-Dazs founders, in the 1959.
Ruben and Rose both had Polish ancestors with Reuben born in Poland. Both had Jewish parents and both emigrated to New York in the early 1920's.
It's not certain how they came to chose the name for their ice-cream enterprise.
One theory is that that they took the name of a European place "to convey an aura of the old-world traditions and craftsmanship, values which Ruben held close to his heart" in this case Haage- and Scandi-fied it.
Another is that Reuben wanted to brand the ice cream as a tribute to Denmark, a country that had supported the Jews during the war. Though Danes don't use umlauts, he added one, "to draw attention
".
There you have it, a set of sound values, a pinch of gibberish, an umlaut where none should exist and the most famous ice-cream's name was born.

Read what other bloggers
thought about the event: