I love looking into the provenance of dishes, don't you? I am not talking about the source of the ingredients but rather which area does a dish originates from and what its variations are, as it travels from one place to the next. Though, I might be inclined to think that sometimes fusion cuisine goes a step too far which, some might say, is probably the case for this recipe.
It's not often that I use a tortilla to make a sandwich, I am a member of the baguette fan-club. But when faced with the left-twice-overs from Sunday slow-cooked duck, it's easy to relent, head for the pantry and pick up a tortilla or two.
That's how Pebble Soup Duck Burrito was born but where does Burrito come from? Mexico.
Oh yes! I also have some leftover from the newly digitised batch of pictures from that
Mexican trip
too and here is one, last one, I promise. Hasn't the quality of pictures changed in the past 15 years?
Classic Mexican burritos are filled with refried beans and meat. I got the inspiration for this dish from the newly published The Greenwich Market Cookbook which I reviewed for my monthly food column in the local paper.
But it left me intrigued as the Greenwich market burrito, Pabellon Burrito, from Argentina contains plantain, rice, salad and topside beef. A quick read of the relevant Wikipedia page revealed a world of
burritos
.
Here, is Pebble Soup version which has a distinctly Asian style and is definitely one to remember when you need to serve something tasty and
Ingredients
Left over from duck (enough for 4 whole burritos)

1 Tbsp. of oil (lemon oil if possible)
1 avocado roughly chopped
1/4 tsp of salt
2 cloves of garlic
1 tsp of soy sauce
1 tsp of rice wine (optional)
1 tsp of five-spice powder (failing this, ginger powder)
Cooked rice

Shallots finely sliced

1tsp Honey
Flour tortillas
Shred the duck meat finely.

In a bowl combine all the ingredients except the rice, the avocado and the duck.

spread the sauce over each tortilla

make a line with the rice at about 1/3 of the tortilla leaving about 5cms top and bottom

top with the duck and then the avocado

to wrap: foil the top and the bottom so that it cover the food a little

and roll, slice into two, diagonally is prettier and serve on a bed of shredded salad leaves
Spread the word : No Waste Food Challenge (click on the logo)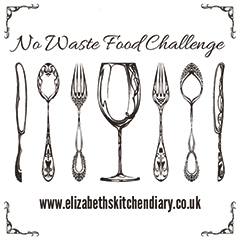 Read more about the Greenwich market book